Bringing Many Sons to Glory - Part 1
My heart yearns for the fullness of God to be manifested in human lives. Paul prayed in the book of Ephesians that they may be filled with the fullness of God. It is obvious from scripture that God wants to see the revelation of His glory in the lives of members of His family on earth.
There have been progressive revelations of His plans and purposes throughout church history especially as we study the restoration of truth, offices and understandings. I believe we should be moving towards the finishing line now: Coming into the full manifestation of the sons of God.
There have been many streams of knowledge as well as movements in the Body of Christ. We have 'tabernacled' around one stream of knowledge or the other, thinking that it was the fullness, only to realise it was a part; not the full picture. Let us take in the full picture so we can be the generation that can finish what was started many years ago. God made man in His image and likeness but mankind fell short of His glory. Jesus Christ is the express image of God and we are to be conformed to the image of the Son as seen in Gen.1:26-27; Hebrews 1:3; and Romans 8:29. This culmination calls for the coming together of all the streams of knowledge and the fullness of process bringing about the manifestation of the sons of God.
God's glory can be understood to be represented by three dimensions; the glory of His presence, His ethical glory (the expression of His character) and His functional glory (His demonstration of power). We are to be carriers of His glory in all possible ramifications.
Everything mentioned about us is applicable to the believer. A body was prepared for Him; the believer is to present his own body as a living sacrifice. Jesus carried His cross; the believer is to deny self, take up his cross and follow Jesus. He bore our sins and we are to bear the infirmity of others. He is the pattern-Son and because of what He did, we see in Him our salvation, our example and the example of a Son operating under God. He came for three reasons: as our sacrificial lamb in divine exchange; He became sin so we can be made righteous; became poor that we through His poverty might be made rich; He took our infirmity and by His stripes we are healed. That is all divine exchange: He became as we were so we can become as He is.
He also came as our divine pattern. He suffered in the flesh and we learn from Him as our example. We arm ourselves with the same mind to suffer in the flesh. This is where tests are passed or failed. Those who drink into only one stream do not appreciate all that Jesus came to accomplish. We learn times and seasons and just like Jesus knew His assignment, we also recognise our seasons in God.
Finally He came to reveal the Father heart of God. God is our Father if we believe in the Lord Jesus Christ. Matured sonship is what births a consciousness of destiny in us. Our transformation is a function of how we see Him and what we see in Him. "We shall be like Him for we shall see Him as He is." 1 John 3:2. "But we all with unveiled face, beholding as in a mirror the glory of the Lord, are being transformed into the same image from lory to glory, just as by the SPIRIT OF THE LORD". (2 Cor. 3:18). We must deal with the veils over our minds that are preventing us from seeing Him as we should in the mirror of the Word of God. Some of the veils are the strongholds in our minds that prevent the light of the glory of God from shining in on us. In spiritual things we tend to see only in one dimension, whereas in the natural we can see in three dimensions. The length, width and height of any object can be taken in by our natural eyes but in spiritual things we seem to learn one dimension at a time and need to mature to handle other dimensions. To have the fulness of His glory and truly glorify God on earth like Jesus did, we need to know the reasons why He came and be well established in the fullness of Christ so we see Him as He is and be transformed into being like Him.
Jesus is Lord!
The Lord Bless and keep you!
God's Servant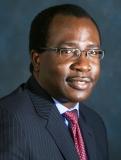 Rev. Kola Ewuosho

---------------------------------------------------------------------
Please visit our various websites for further studies, view/listen to clips of our latest messages and order products online. You can also refer your friends to our websites:
www.fowm.org
www.cybermessages.info
www.dtnbroadcast.org
www.kolaewuosho.com
www.wisdomestore.com
Streaming Faith Network
Fountain of Wisdom Podcast
Live Radio Webcast
Live TV (Video) Webcast
Published
23:52:26 22.10.2010